St. Gianna Beretta Molla Parish
1421 New Road, Northfield, NJ 08225
www.stgiannanorthfieldnj.org     email: stgianna@comcast.net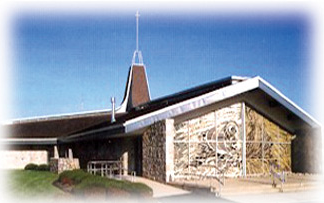 MASS TIMES
SATURDAY EVENING: 4:30 PM Vigil
SUNDAY: 8:00, 9:30 & 11:00 AM (English); 12:30 PM (Latin); 2:00 PM (Spanish)
WEEKDAYS: Monday – Saturday: 8:30 AM (English); Fridays: 7:00 PM (Spanish)
HOLY DAYS: Consult Calendar
RECONCILIATION: (English): Saturdays 3:30 – 4:15 PM,
(Spanish): Fridays 6:00 – 6:45 PM
– Anytime by appointment –
Welcome to St. Gianna's Parish community on the web! 
Mission Statement
Our Motto is that of Saint Gianna

PAS

Prayer Action Sacrifice
All of the parish staff members listed below may be reached through the telephone number given above unless noted otherwise (Religious Education exception). If you are directed to Voice Mail, please follow the prompts.
Reverend Anthony J. Manuppella, KHS, Pastor
Reverend Christopher M. Markellos, Parochial Vicar
Reverend John Yu Seo, Parochial Vicar
Reverend Anthony I. Cataudo, Retired in Residence
Mr. George Del Rossi, Permanent Deacon
Mr. Luis Correa, Permanent Deacon
Mrs. Christy Wimberg, Religious Education Director (609) 484-0249
Miss Katie Manafredonio, Religious Summer Program Director
Ms. Lee Finizio, Religious Education Secretary
Ms. Claudia A. Costa, Assistant Administrator
Ms. Ann Hyatt, Bookkeeper
Mrs. Nancy Norton, Event Coordinator
Mr. Jeff Young, Youth Group Director
Mrs. Bettie Timm, Music Director
PARISH OFFICE HOURS: Monday – Thursday: 9:00AM – 4:00PM (CLOSED on Fridays)
PARISH REGISTRATION: Registration forms may be picked up at the Church doors at any time.
BAPTISM: Preceded by Pre-Baptismal Orientation. Please call the Parish office to make the necessary arrangements two months prior to the Baptism date.
MARRIAGE: Pastoral Preparation for marriage is a minimum of six months to ensure completion of all arrangements before the wedding date. Please call the Parish Office.
MINISTRY TO THE SICK AND HOMEBOUND: Regular Ministry provided by Pastor, Deacons, Pastoral Associate and Extraordinary Ministers of Holy Communion. In case of serious illness, call the Parish Office to request Anointing of the Sick.
ROSARY: Monday thru Friday at 8:15 AM.
OUTDOOR ROSARY: Mondays at 7:00 PM in front of the Statue of St. Bernadette from May to September (in case of inclement weather we will pray in the church) .
BINGO: Games played at 10:00 AM, Wednesdays and Saturdays in the Family Memorial Center-Parish Hall. Doors open at 8:30 AM.